Following the final elighthouse public seminar on Wednesday, project partners met in the Lapland Hotel, Oulu on Thursday 28th March 2019 for the final consortium meeting and internal seminar to discuss the various smart solutions developed and deployed during the project. In direct contrast to the public event, this internal seminar was relatively small scale, with only representatives from the partner regions in the Northern Periphery in attendance (Finland, Greenland, Sweden, Ireland, Norway and Scotland). Once more, the seminar was opened by lead partner Antti Haapalahti, Oulu University of Applied Sciences, who outlined the purpose of the final internal seminar, and provided a short overview of the key smart energy solutions that were to be discussed during the event. These smart solutions concerned three primary areas; Renewable Energy; Energy Management, and; Models to reuse waste as energy.
The first session concerned partner presentations on smart solutions relating to renewable energy, and this session was opened by Ciarán Galvin, Cork County Council, who discussed energy efficiency in public buildings in Cork and the Cork County Council Hall campus case study. Following on from this, Caitriona Courtney, NCE Insulation, presented on the sustainable energy communities concept (SEC), Ulf Roth, Umea Kommun, discussed geothermal energy in Umea, while Olli Terio from the City of Oulu concluded the session by outlining the steps taken in Oulu to enhance gravity ventilation for old buildings.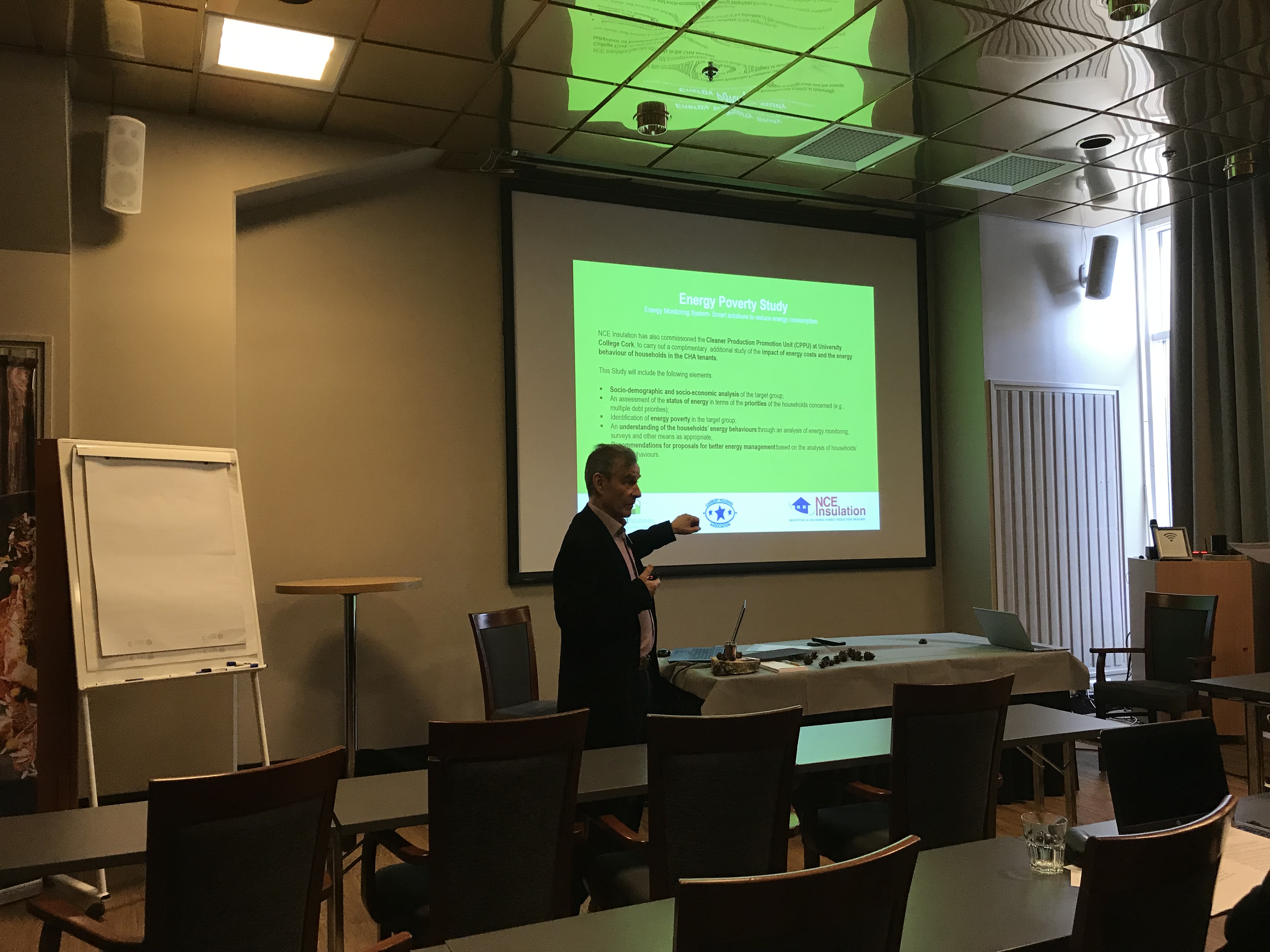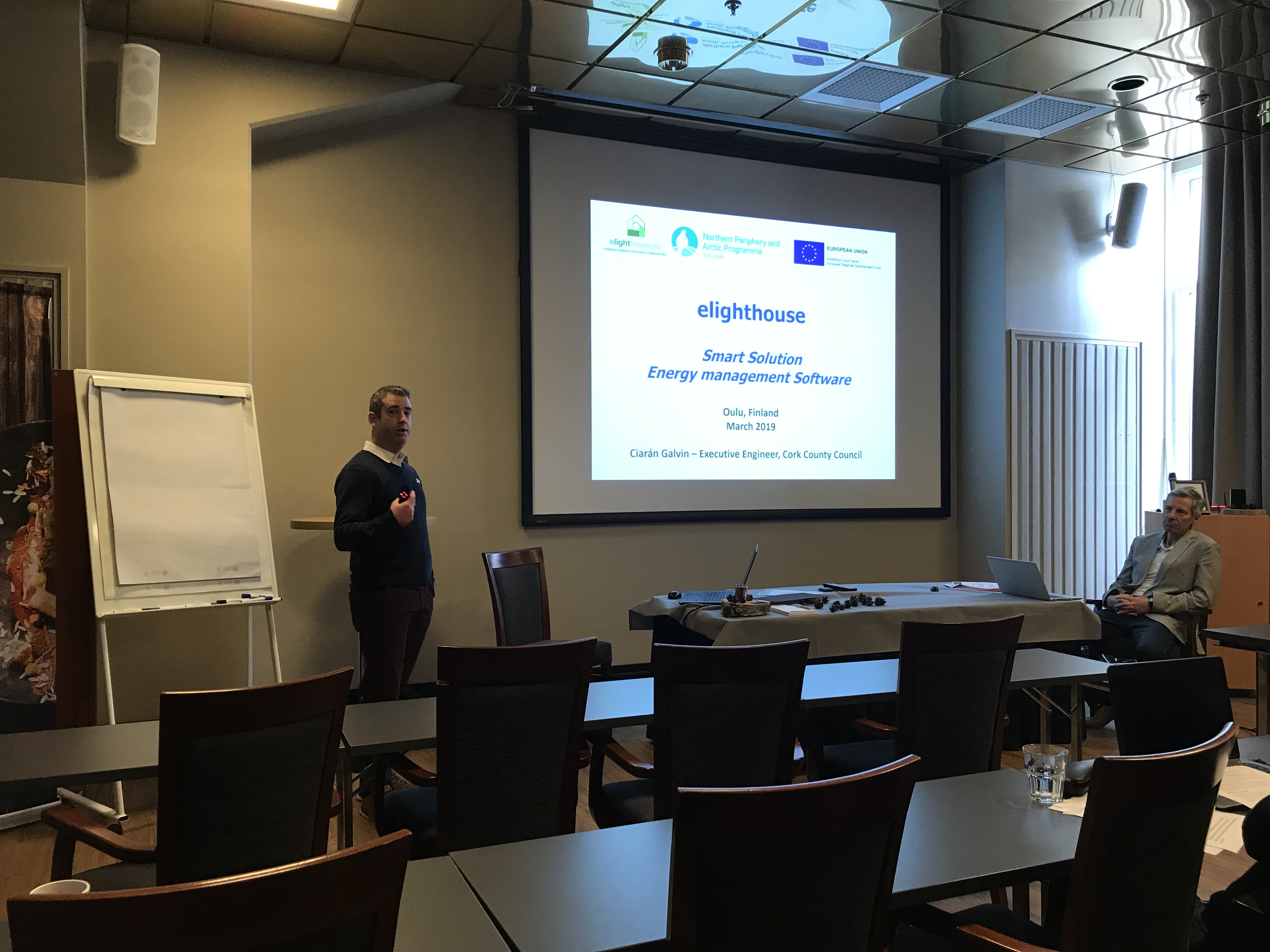 Heidi Taurianen, City of Oulu, opened the second session on energy management, and discussed proactive quality management in permit process of building supervision. Next, Jose Ospina, NCE Insulation, outlined how smart energy monitoring can be used to influence behaviour, and Ciarán Galvin, Cork County Council considered the effectiveness of energy efficiency organisational management, particularly ISO 50001 certification, as well as the potential of a new energy visualisation software for public buildings, which is set to be deployed in Cork. The second session concluded with two final presentations from Erik Eklund, Umea Kommun, on energy visualisation to reduce energy in public kitchens, and Ronny Östin from Umea University on the Hedlunda passive house preschool.
The final smart solutions presented at the elighthouse internal seminar concerned models to reuse waste as energy, with Bjarne Lindelöw, Nordland Research Institute presenting on organic waste and biochar, and attempts to recycle waste to reduce C02 emissions, as well as the potential of industrial waste water technology as a resource. This presentation was followed by Helmi Riihimäki from City of Oulu who discussed three case studies; the oivapiste collection point for households in Oulu; an innovative process of gas purification for biogas currently being applied in Oulu which subsequently becomes used as fuel for transport purposes, and; the Laanila eco power plant and its role in the generation of energy for domestic heating in the Oulu municipality. To conclude the session, Erik Eklund, Umea Kommun, presented on Dåva One, a waste incineration (CHP) plant in Umeå, and the role of the plant in energy generation, while Gireesh Nair, Umea University, discussed energy signature analysis for assisting energy management in public buildings.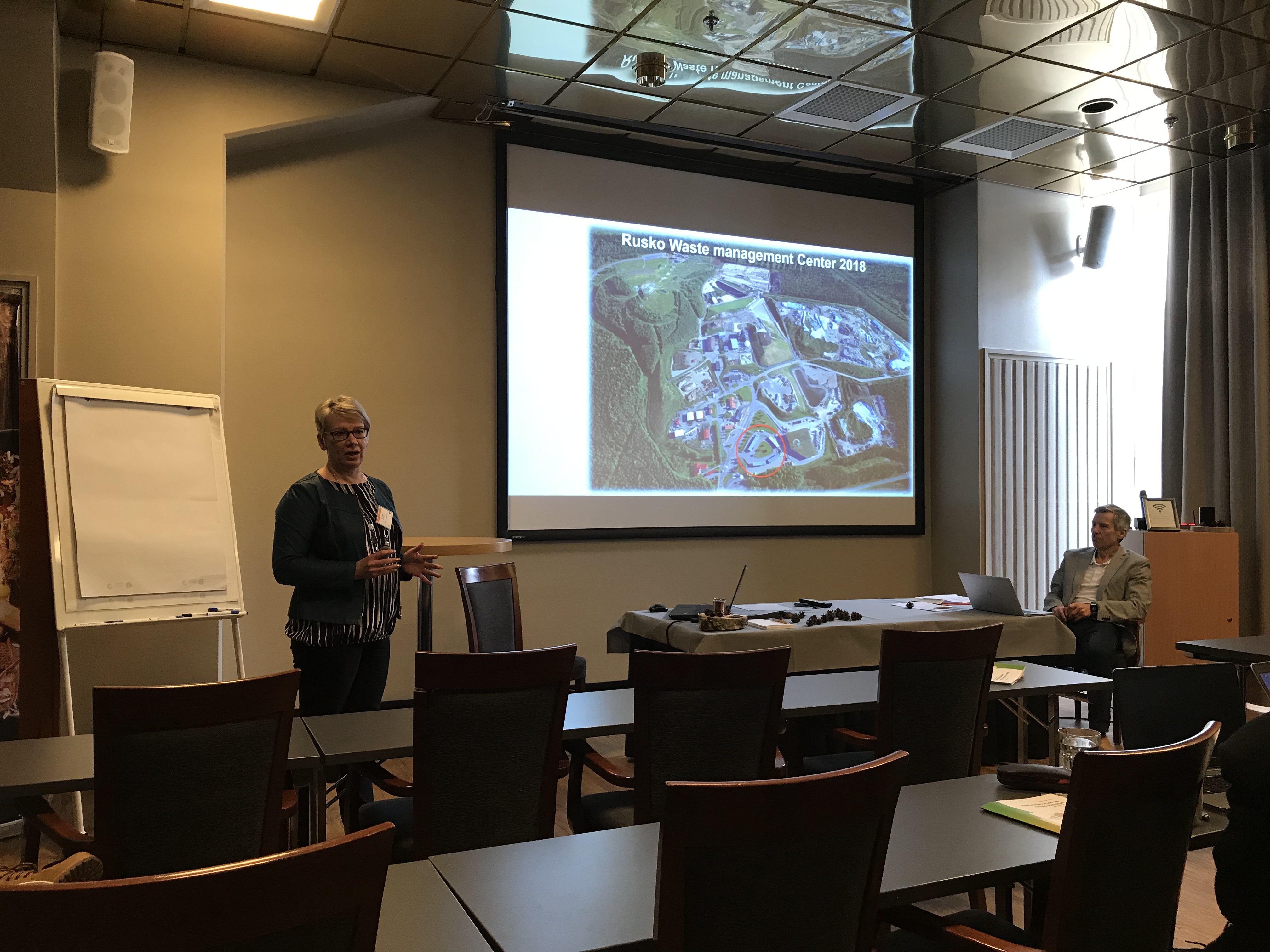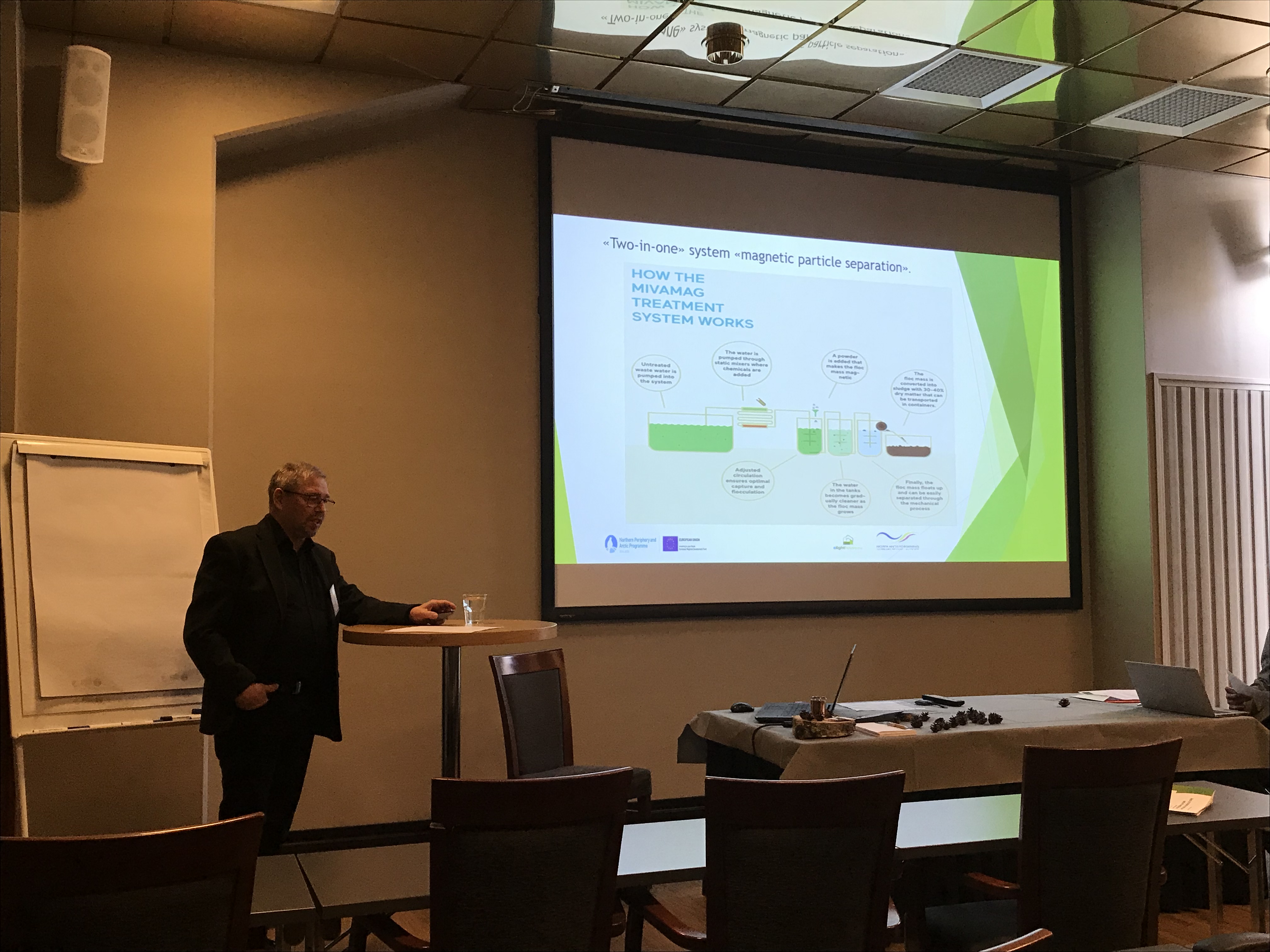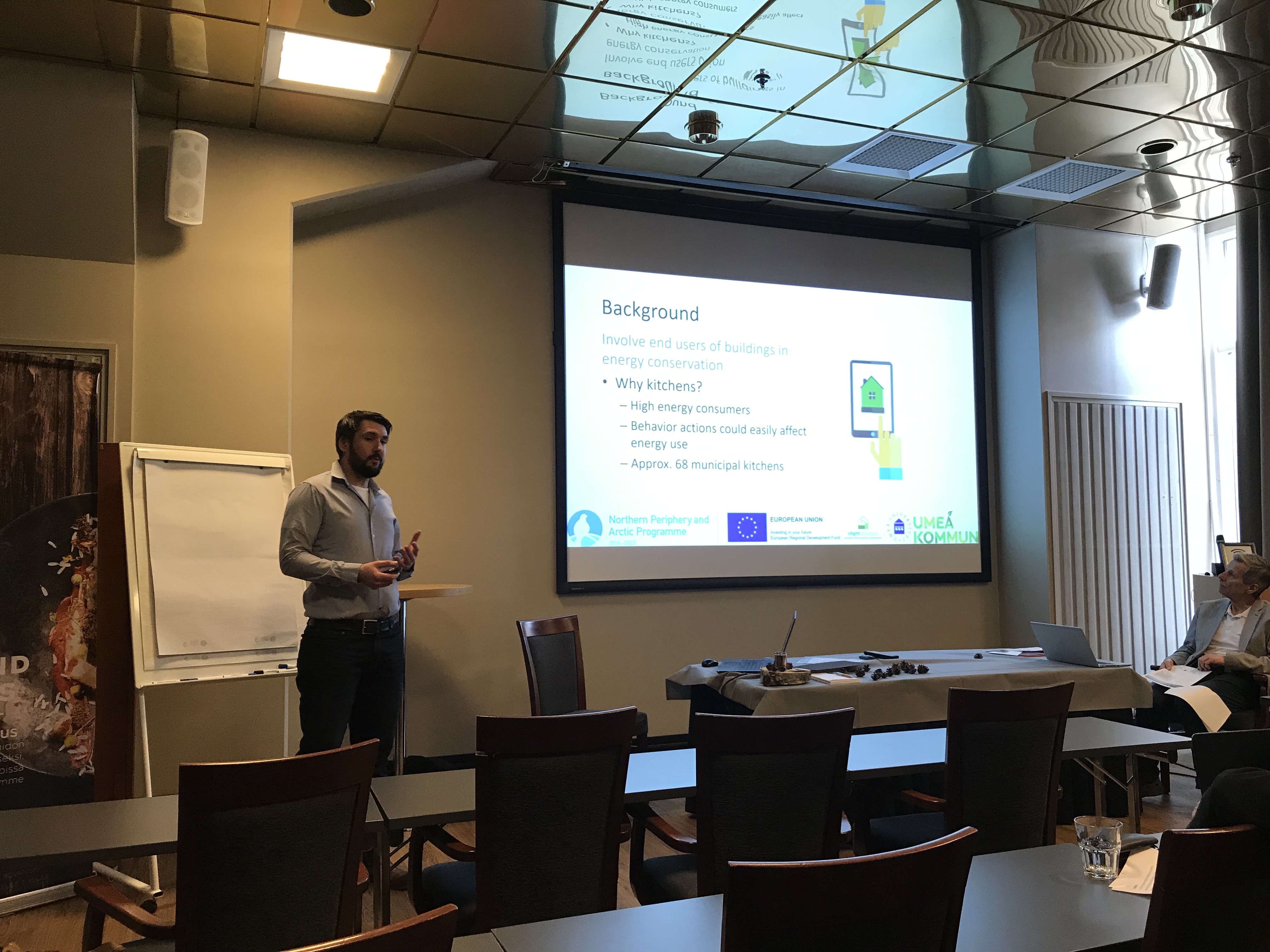 The final elighthouse internal project seminar concluded with a short discussion chaired by elighthouse project lead partner Antti Haapalahti, Oulu University of Applied Sciences, on the key project achievements and milestones. Antti Haapalahti referred to the major progress made in the energy efficiency sectors in each of the partner regions, enabled through the elighthouse project, while Antti also contended that the project has facilitated the development of significant research clusters which will be further expanded and developed over the coming years. Finally, Antti thanked all project partners for their contributions over the project duration and their presence in Oulu, Finland at the final events.
Further information about the elighthouse smart solutions can be found here.