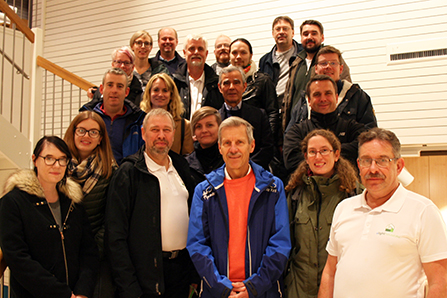 In October, for two days, project partners from e-Lighthouse consortium visited partners in Umeå, Umeå municipality and Umeå University. Participants also visited Hedlunda passive house pre-school, the deep renovation project "Maja Beskow school" and the CHP-plant located in Dåvamyra for sharing experience and learn from each other.
e-Lighthouse aims to increase energy efficiency together with the use of renewable based solutions in the Northern Periphery and Arctic region. The project, which is co-financed by the European Regional Development Fund (ERDF) through the Northern Periphery and Arctic (NPA) Programme 2014–2020, will run from 1st April 2016 to 31st March 2019. The meeting in Umeå was the 5th e-Lighthouse project partner meeting involving all 10 project partners from 6 countries, Ireland (Cork), Norway (Bodö), Greenland (Sisimiut), Scotland (Inverness), Sweden (Umeå) and Finland (Oulu), in Northern Europe.
"In Umeå, we have come a long way in using technology to measure and influence energy use, and during our meeting shared experience and knowledge about that", says Erik Eklund, national project coordinator, Umeå municipality.
Part of the project is to document solutions and experiences, to reduce energy use, which can be shared in northern Europe and the EU. In Umeå, Umeå Municipality and Umeå University (Department of Applied Physics and Electronics) have together studied and tested new ways of energy efficiency in building sector. For example, by documenting experiences and extensive monitoring of energy use in the Hedlunda Passive House pre-school, and testing and evaluating energy visualization in public kitchens.
"Our joint e-Lighthouse project has created a good collaboration and networking in the region. Having experts from 6 northern regions to focus on energy issues, everybody has extended their views about various ways to increase know-how of approaches towards more sustainable and carbon-less future", says Antti Hapaalahti project leader, Oulu University of Applied Science.
Next meeting in e-Lighthouse project is the final conference that will be held in Oulu in February 2019, where results and findings from the project will be presented to key stakeholders.
Brief information about the deep renovation project Maja Beskow:
12 buildings and approx. 30 000 sqm are renovated
Budget 52 Million Euros
Production time 22 months
1800 sqm of PV cells
Aims at being environmental building with a Silver rating
Facts about Hedlunda passive house Pre-school:
First public passive house in Northern Scandinavia
Heated floor surface 1407 sqm
Energy consumption: 34 000 kWh/year
Extensive monitoring of the energy performance is being conducted during the e-Lighthouse project
Over 400 sensors in the building and data is collected from approx. 180